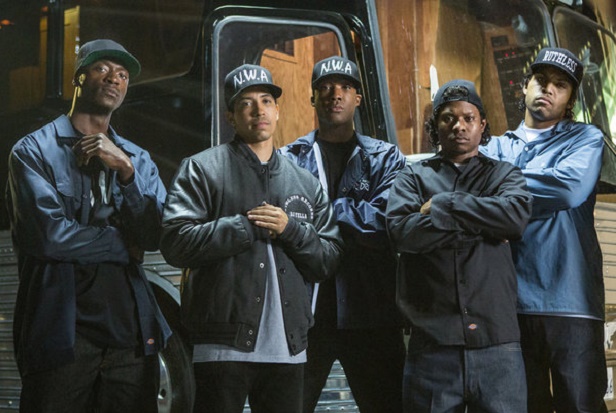 "Straight Outta Compton" blasted past analysts' estimates with $24.2 million in its box office debut Friday, and is on its way to a record-breaking $57 million weekend for Universal Pictures.
The weekend race will be a blowout, with "Man From U.N.C.L.E." a very distant second with roughly $5 million on Friday, and heading for third with a limp $13 million debut, behind reigning champ "Mission: Impossible – Rogue Nation."
"Straight Outta Compton," the R-rated biopic about the iconic "gangsta rap" group N.W.A. — Niggaz With Attitude — is on track for one of the biggest August openings ever and will be Universal's sixth film to hit No. 1 in what has been an incredible year for the studio.
Also Read: Ice Cube Gets Real on Police Brutality, Black Lives Matter: 'I Tell My Kids to Make It Home'
Universal on Friday passed the $2 billion mark at the domestic box office in record time, overtaking the speed record previously held by Warner Bros., which reached $2 billion on Dec. 25, 2009. The studio is also poised to cross the all-time domestic record later this year — also set by Warner Bros. in 2009 ($2.1 billion). Universal last week broke the record for the highest-grossing box office year in Hollywood history when it reached $5.53 billion worldwide.
The Friday opening for "Straight Outta Compton" — which included $4.9 million from Thursday screenings — was the fourth-largest August first day ever, behind only "Teenage Mutant Ninja Turtles,' "The Bourne Ultimatum" and "Guardians of the Galaxy." It's on track for the biggest opening for a rap or hip-hop movie ever, ahead of the $51 million 2002 debut of Eminem's "8 Mile."
Moviegoers gave "Straight Outta Compton" an "A" CinemaScore, in line with the high marks critics have given the film, which recounts the rise of the what was known then as "the world's most dangerous group." An in-your-face style that challenged authority with profane hits like "F-ck Tha Police" put the group on the front lines of the 1980s cultural wars in America.
Also Read: 'Straight Outta Compton' Review: Ice Cube, Dr. Dre and N.W.A. Get a Rich, Rousing Origin Story
F. Gary Gray directed "Straight Outta Compton," which features O'Shea Jackson Jr. playing his real-life father, Ice Cube, in his first starring role. Newcomers Corey Hawkins and Jason Mitchell are Dr. Dre and Eazy-E, respectively. It's at 88 percent positive on Rotten Tomatoes.
Ice Cube and Dr. Dre are joined as producers by Eazy-E's widow Tomica Woods-Wright, Matt Alvarez, Gray and Scott Bernstein. Will Packer serves as executive producer of the film alongside Adam Merims, David Engel, Bill Straus, and Legendary's Thomas Tull and Jon Jashni.
Warner Bros. had hoped for more from the Guy Ritchie-directed "The Man From U.N.C.L.E.," an action film starring "Superman" actor Henry Cavill and Armie Hammer based on the 1970s TV show. Analysts had projected a debut in the high-teen millions. It received a "B" CinemaScore from audiences, in lines with the critics, who had it at 68 percent positive on Rotten Tomatoes.