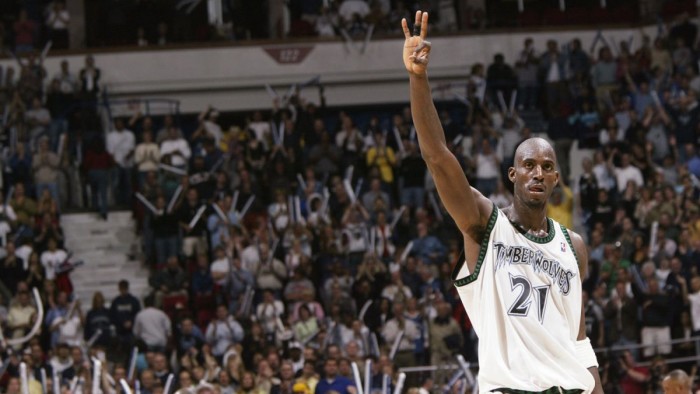 Kevin Garnett has decided to retire after 21 seasons in the NBA, leaving a legacy as one of the best defensive players in league history and one of the game's most influential and intense competitors.
Garnett posted a farewell video on Friday, four days before the Minnesota Timberwolves are set to open training camp. He narrates the short, black-and-white video that shows him walking alone through Target Center with sunglasses on.
"I'm just thankful. I can't even put that into words," Garnett says. "I'm just thankful. I'm just thankful for everybody and the love. I never would have thought that people love me like this. But, for it to be reality is just something else, man. Man."
Garnett informed the Timberwolves of his decision to retire Friday. The team will waive the franchise icon, which will allow him to collect his entire $8 million salary for the 2016-17 season.
The San Antonio Spurs made the same move with Tim Duncan when he retired this summer.
"It has been a real joy to watch KG come into the league as a young man and watch him develop his skills to become one of the very best in the NBA," Timberwolves owner Glen Taylor said in a statement. "I have treasured the opportunity to see him grow as a leader. I wish him continued success in the next chapter of his life. His Minnesota fans will always cherish the memories he has provided."
Team president and coach Tom Thibodeau, who coached Garnett as an assistant with the Celtics during their title-winning season in 2007-08, said in a statement Saturday: "His fierce competitiveness, his unequaled passion for the game, and the many ways in which he cared about this team was truly special. KG is without question the all-time best player to wear a Minnesota Timberwolves jersey, and he is also one of the best ever to play the game."
Garnett finishes his NBA career as one of three players with 25,000 points, 10,000 rebounds and 5,000 assists. The others are Hall of Famers Kareem Abdul-Jabbar and Karl Malone.
Source: ESPN