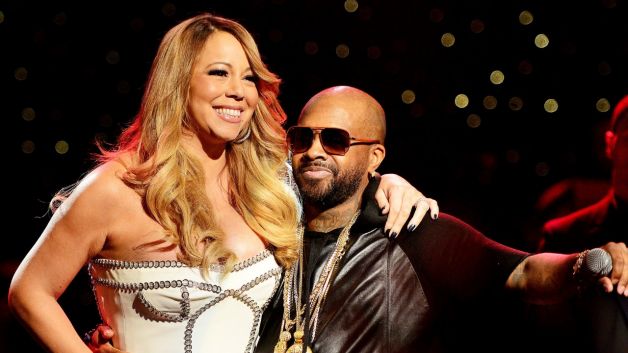 The date was October 3, 1995. Mariah Carey just released Daydream, a follow-up to Merry Christmas, the wildly successful 1994 holiday LP, which gave us one of the most popular Christmas songs in history. At that point in her career, Carey could've very well continued on the pop route, but with Daydream, she took a detour.
CLICK FOR R&B DIVAS WHO IMPACTED HIP HOP
Carey wanted a different sound from her older work, so she teamed with a young Atlanta producer named Jermaine Dupri. In the early '90s fellow Columbia Records artists, Kriss Kross and Xscape, made Dupri a buzzing talent in hip hop and R&B. With Carey, he created a space somewhere between both genres.
If you ask Dupri, it was Carey who spearheaded a merger of hip hop and R&B that's commonplace today. The So So Def label head co-wrote and produced two songs on Daydream, "Long Ago," and "Always Be My Baby." The latter pivoted Carey into a special club, with Whitney Houston and Madonna for the most chart-topping singles by a female artist.
In 1995, Mariah Carey became a certified megastar.
To celebrate the 20th anniversary of Daydream, BET.com turned the clock back with Dupri, to the first time he worked with Carey.
BET.com: How did you and Mariah first connect? 
Jermaine Dupri: Through Columbia Records, that's where So So Def was, Kris Kross was on Columbia Records so the success of Kris Kross fueled me meeting the No. 1 artist on Columbia. [Sony Music chairman] Tommy Mottola and the CEO [of Columbia Records] felt like I was the hottest producer at the time. Mariah was at the beginning of pop music merging with hip hop, and putting robotic pop on top of 808s and everything that you hear right now. She was the birth of that. It was all her idea, going in the studio with me.
Did you two have instant chemistry?

I wouldn't say it was "instant" because I don't think we really even knew what it was because "Always Be My Baby" was the third single on this album, it wasn't like people were jumping out the window saying "This is the first single!" I thought I made some cool songs, and I was happy my records made albums, but when you're coming up as a producer, if you don't get a first or second single, you feel like you still got a lot more work to do. For me, I didn't feel like I had accomplished too much of anything. We worked with each other but the fact that I didn't get the first or second single…even with two songs that I did [on Daydream], I felt like I didn't really do what I was supposed to do.
Did you feel like you had something to prove?
Nah, I don't think so.  ["Always Be My Baby"] that's probably one of my biggest least-known works. It just sounds like a traditional pop, R&B type of record. None of the inspiration for the song came from a rap record, it was what I would've done on Xscape's record or something like that. If anything, that's what I was mimicking, something I would give Xscape, that's what she liked.
How did you guys come up with concept for "Always Be My Baby"? 
Our studio sessions were like from 9 in the morning 'til 5:30 in the afternoon. It would cut off at that point, Tommy would pick her up everyday and they would go to dinner. This was so different from anything I had ever seen in my life — ever. I had never been in the studio in the morning, for nobody, that's one. And two, it's cold shut-off, like no matter where you are in making the record, by 6 o'clock she had to leave. I was from an era where you stayed in the studio 'til the song is finished, so how does a person come in the studio and leave by dinner time?
It was a weird experience for me, but the whole song actually came from Mariah. I don't recall having any writing influence in that song, as far as lyrically. That was all her, and I think, like I said just because of the timing and the dynamic of it, I'd adjust. I was coming from staying up all night then I'd be in the studio at like 9 in the morning. I think we made the track and I might've fallen asleep [laughs] because I was adjusting to the time [constraints].
So Tommy Mottola slowed down the process?
It aided to the process because we made "Always Be My Baby." All it did was create what was to come after that. It feels like I've known Mariah my whole life, that [album] was the beginning. It wasn't a bad thing that he was doing that. I think it was like, we didn't get a chance to get as creatively close as we should have on the project, but we got close enough to know that when we work together it's gonna always be something special.
How did working with Mariah change your career?
It made me rich [laughs]. People were only looking at the things I did with Kris Kross and Xscape. I didn't talk on the ["Always Be My Baby"] record, so it didn't jump out to people that that was my song. It solidified me as the No. 1 producer at Columbia Records, I can say that. It made my relationship with the label really become A-1. I had a hit record with their No. 1 artist, I could do whatever the f**k I wanted. It made bringing out Da Brat easier, bringing out the next artist I brought out, everything just became easier.
What do you think gave Mariah staying power?
The songs, a great song is like respect. Respect don't go nowhere. "Hot" goes somewhere, but when people respect you, that respect will last as long as people can tell the story of how the respect was even gained.  Songs that I didn't have anything to do with, I hear people saying that same stuff. "So many of the songs, got me through life, I was depressed, I wanted to kill myself and I listened to this song…" So many different songs that she's written I hear her fans tell stories like this. She's just a phenomenal songwriter. I think that came from, again, Tommy Mottola being married to her, and her not being able to get out in the mix, doing nothing else but music. It made her this incredible songwriter.
How do you feel about today's R&B ?
I think R&B is in such a bad space, as far as the confidence level of people making R&B music, people actually fear singing about stuff that makes sense. They feel like no one's gonna' listen if they make a record that's saying something, and that they're actually singing. R&B is completely gone, as far as I'm concerned.
Is there a way to fix it?
It's gonna take the people that really sing, an artist like Mariah Carey. When she first came out, I'm not sure that anyone said "You're gonna' be the biggest artist on the label… the biggest artist in the world." I'm sure Tommy said it but, in that day and time, people used to go and listen to people sing. The fact that they could sing incredibly, was all it took, and from there we gotta' find these great songs. Like Whitney Houston, Clive Davis used to sit around and say "All I gotta do is give her incredible songs, send me incredible music." Nowadays they're not even looking for that type of artist. We have to let songbirds into this world. I don't know the last time I've heard somebody say "songbird," Christina Aguilera maybe. When her album first came out she was compared to Mariah, people were saying she's a songbird, but I haven't really seen any, especially not urban [artists], in a long time.  
Besides Mariah, Janet Jackson made a comeback, what do you think of her new music?
I think Janet's record was cool. I haven't heard anymore songs off her album, but I think that the song she put out feels like it could be an early Janet Jackson song. It feels like, if you're a fan of Janet Jackson, you shouldn't be mad about that record. With Mariah, I have a different opinion about whatever she makes because I feel like she has so much respect, that she could be the person that could get people back into singing, if she wanted to.
BET.com is your No. 1 source for Black celebrity news, photos, exclusive videos and all the latest in the world of hip hop and R&B music.