On Nov. 19, Atlanta Business Chronicle's Phil W. Hudson sat down with Kandi Burruss at her studio dubbed "The Kandi Factory" for the relaunch of her music label Kandi Koated Entertainment. Burruss is a former member of the Atlanta-based platinum-selling group Xscape and a Grammy award-winning singer/songwriter who penned songs such as "No Scrubs" for TLC and "Bills, Bills, Bills" for Destiny's Child. In addition to her musical career, the music, film and play producer has been featured on television shows including The Real Housewives of Atlanta, The Kandi Factory, Kandi's Wedding and Kandi's Ski Trip.
Atlanta Business Chronicle: What can Georgia's music industry do to capitalize on the momentum of its film industry?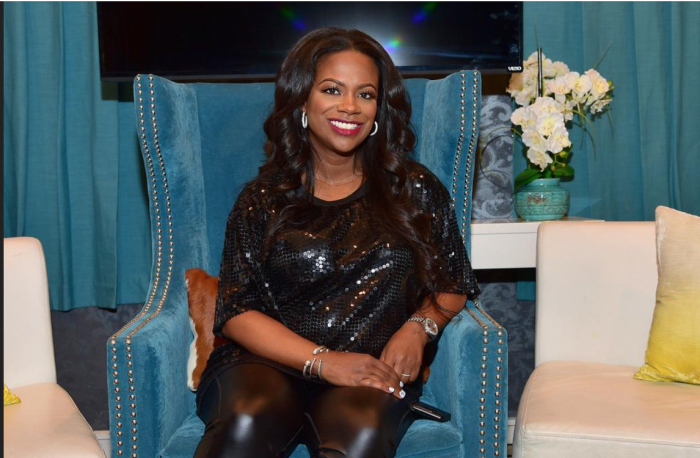 Kandi Burruss: The film industry is doing great things in Georgia right now. But, the thing about the music industry that a lot of people don't recognize is music has been doing a lot in the entertainment businesses since the 90s. Our group, Xscape came out in the 90s and it was a huge era [for Atlanta music because] all of the major producers, songwriters, and a lot of the hit artists were coming out of Atlanta and Georgia. We had TLC, Toni Braxton, LaFace Records, So So Def and you had Dallas Austin's label. I don't feel like people recognize how big the music industry has been here in Atlanta for a very long time. Even with the rap era being so big, you have so many of the hits with people like Rich Homie Quan, K Kamp, Future and 2 Chainz, who are coming out of Atlanta. We represent the majority of the people who are on the charts right now. And a lot of the people who are making the hits [who are] behind the scenes like the writers and producers are right here in Atlanta too. But people don't recognize that. I know the Grammy association (National Academy of Recording Arts and Sciences) and ASCAP (American Society of Composers, Authors and Publishers) have been talking about trying to do more and figure out a way to make it make sense. They used to call Atlanta the "Little Motown of the South."
ABC: How much does it cost to get a music label off the ground?
KB: We just started with two new groups. You have to pay them money up front to sign them. Then, we pay money to get their images right. Then, we have to get a PR person. It can be very costly. If you put out a record on your own without any distribution, you have to use your own money to do it. It's $20,000 just to have a rep push a song on a radio for six weeks in just a few markets. It can get very expensive depending on your approach. Right now, we have a PR person for them. We have people doing their social media and photo shoots. It adds up. I can't give you one set fee because you do different things with different groups, but I'm sure before I get to even trying to get to a label, I'm going to be around $50,000.
ABC: What are the artists' obligations when you sign them to your label?
KB: When I sign an artist, I give myself 18 months to get a distribution [deal] in place. Basically, they have to make themselves available for any press; they have to be there for recording, artist development or rehearsals, photo shoots, everything that they are supposed to do. They have to always be available for those types of things. If they are songwriters, they have to be in the studio constantly — writing and recording until I think that the songs are on point to be able to shop. They basically just have to make themselves available because in the beginning with us locking in distribution, I have to take in so many meetings where I have them perform live and be seen before we lock that in.
ABC: What is the process of getting a distribution deal?
KB: Getting distribution right now, because we are in a world where a lot of major record labels jump off of hype, they want to see high social media numbers. You have to have a following of your own before you can get to them because they have to invest so much money into the project. Basically, you have to take meetings with whomever the head of A&R ( artists and repertoire) with whatever label you're meeting with and try to impress them with the group. Sometimes you don't have to take the group in front of them, sometimes you can just impress them with the media kit and the actual songs without them even having to see the group perform live or if you think it's more impressive for them to perform live you might fly them out. A lot of the major companies are in New York or L.A. so you have to fly your artist there to perform and do a showcase in front of a major label.
ABC: Financially speaking, what is the biggest different between owning a label and being an artist?
KB: As a label, you're taking all of the risk. Like right now, for me, I have so many months that I have to lock in distribution unless I decided to put it out myself, which is costly. With that being said, if I don't lock in what I need to lock in in that time period, then they get to talk away free and clear, and I've already invested all of this money. But, if I do lock in my distribution, they're signed for so many years or so many albums. That's when you see so many artists say, "It's not fair," because after then if they blow up they're only getting a small percentage. Well, the only reason you're getting a small percentage is because the label took all of the risk in the beginning when nobody knew you.
ABC: Why did the label go on hiatus?
KB: Once I became a part of The Real Housewives of Atlanta, I'll just be honest and say it: I lost focus on the music. You get so caught up in the TV world and you're making good money doing that. I used to be a studio rat. It's all I wanted to do. But, when you're taping all of the time and you're only getting a day off, it's like, "I'm tired, I don't want to be in the studio." It just went on the backburner and wasn't a priority like I should have continued to make it.
ABC: Are your groups making money yet?
KB: They're starting to do shows. It's not on the level we're about to take it, but they are bringing in revenue.
ABC: What is here at The Kandi Factory?
KB: It's a full entertainment center. We have music production, television production and artist development here. You can record your music and we can tape TV shows in this building.
ABC: What TV shows are you currently shooting here?
KB: Right now, we are shooting stuff for our website TGITV.com. Kandi Koated Nights is one of the shows and we have a few more. We also develop ideas and TV shows that we pitch to networks.
ABC: What's it like being a woman in a male-dominated industry?
KB: It's great. Anytime you're the first to be able to break through and be able to open the door for other women to be able to come in and do their thing, it feels good. I was the first woman to win the ASCAP Songwriter of the Year for the Rhythm & Soul awards. That's a major accomplishment. To be able to be amongst my peers of mainly men and have them respect me and want to work for me, it feels good.
ABC: What has changed most in the music industry since you began?
KB: For one, when I came up, R&B was killing the charts. We were No. 1. Top 10. Girl groups were big in the 90s. But now, rap has taken over and there aren't are many vocal groups. The other thing is that it's an independent world. If you have the money, you can put out your record independently and you can really blow up. But back then, you felt like you had to sign to a major [label]. That's why if I chose to go to a major for distribution, I have to get it done in 18 months. I can actually put it out myself If I wanted to and wanted to financially take all of the risks. People can blow up off of social media now. Social media wasn't even around back then. You have to think you have all of these people blowing up from YouTube. YouTube didn't even exist back in the early 90s. It's a whole new world. You have so many new ways to promote and market yourself, but you have to have the right team to do that and make it happen.
ABC: Why did you decide to sign Loud and Glamour to your label?
KB: Loud are from ages 14 to 16. I really love them because it's girls and guys and they're multicultural. What's so dope about that is right now everybody is going crazy over race. There are so many negative things out there. It's good to promote these young kids who get together and are like sisters and brothers where color isn't an issue to them. The whole race issue is still a problem because you still have older people hanging onto the past. The younger people are changing things and I feel like that's a beautiful thing to see. We also have our girl group Glamour and they are super dope. I love them because I was in a girl group and I was a teenager when I signed to Jermaine [Dupri] and So So Def. I definitely was excited to see two groups around the same age that I was when I started who I can help grow.
ABC: How did you meet Jermaine Dupri when you were young?
KB: When we first met Jermaine, Kris Kross hadn't come out yet. He was still working on them. We sang at his 19th birthday party and he was like "I want to work with you guys, but I have to finish this group that I'm doing." We were like, "Yeah, Yeah. OK" because we kept hearing that from so many people. We didn't know he was going to get his own label because Kris Kross made it so big. But, he was a man of his word and came back and signed up and we blew up right off the rip. As soon as he signed us, he finished our album in like a week, our record was out in less than a month and we went straight to No. 1.
ABC: Is it true you're opening a new restaurant?
KB: Yes. We are doing a restaurant that is close to the stadium in Castleberry Hill. It's going to be called OLGs –Old Lady Gang's. It's Southern cuisine. On The Housewives, people had a chance to see my mother and her sisters and they call them the Old Lady Gang. People hashtag it. They cook very well. I come from a family where we have a lot of great cooks and a lot of the some of their recipes are going to influence the things on the menu. Since it's a family restaurant with Southern cuisine, I was thinking when you think of an old lady, you think they can cook well. (Laughs)