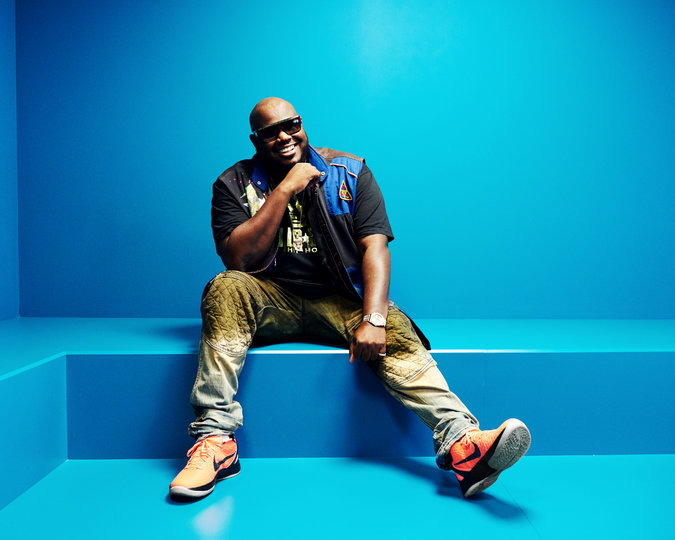 Los Angeles — Lee O'Denat, known as Q, the founder of WorldStarHipHop.com, used to go out constantly, hitting the clubs, hosting parties, attending movie premieres and HBO-televised prizefights.
He was a presence on the scene in Las Vegas, Miami, Atlanta and New York, posing in a photo with Drake here, doing a Hot 97 radio spot there. He traveled with an entourage. He employed bodyguards.
"I felt like I needed to be out there, show my face, so people say, 'WorldStar in the club,' " Mr. O'Denat said, sitting in the empty bar of the Four Seasons Hotel in Los Angeles on a recent morning. "A lot of websites come and go. I wanted people to look at WorldStar as something that's here to stay."
That is no longer a concern. The digital entity that Mr. O'Denat started in his house 10 years ago to sell rap mix tapes has evolved into a YouTube filtered through the lens of hip-hop culture — a grab bag of rap videos, celebrity interviews, sports clips, super cuts and the latest viral sensation.
The site's more outrageous clips, like police car dashboard-camera footage, cheaters confronted and street fights captured via iPhone, have received millions of views and made WorldStar's reputation. The titles of such pieces ("He Warned Him: Bully Asking for a Fight Gets Dropped!"; "One Legged Man On Crutches Tries to Shoot Up a Store!"; "Rat and Pigeon Go at it in Brooklyn!") have a tabloid poetry that appeals to the 18-to-34 demographic.
Mr. O'Denat's creation is controversial and, according to him, profitable. Despite its sometimes hard-edged content, companies like Comedy Central, Progressive insurance and Subway are regular WorldStar advertisers.
And although Mr. O'Denat was rattled a few years back when Bill O'Reilly, in response to a video posted to the site of a woman teaching a child to say inflammatory things about President Obama, said the F.B.I. should interview "this guy Q," he has stuck to his vision.
"Hip-hop is for the sex, the drugs, the violence, the beefs, the culture," Mr. O'Denat said. "That's the competitiveness of hip-hop, so I felt like the site needed to be R-rated."
He added: "People may be offended by some of the content, but, hey, the Internet is not a censorship boat. We're the Carnival cruise, man. You don't have to log on."
Still, when Mr. O'Denat looks to YouTube and Facebook, where many of WorldStar's videos originate, he can't help but notice that those sites continue to grow while his has yet to break into the mainstream. He would like WorldStar to be even bigger, with more original content, brand partnerships and global recognition to equal other digital media platforms.
"There's no reason we shouldn't be standing up with the Snapchats, the Vines," Mr. O'Denat said. "We're missing that piece to make a full picture. It's all about finding the right team."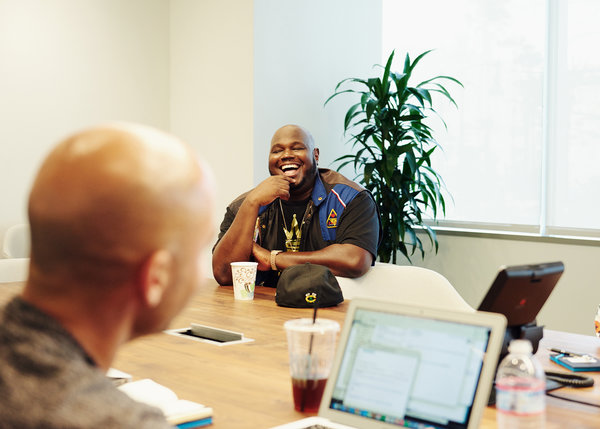 And so Mr. O'Denat drove from his home in San Diego, where he lives with his three young children, to Los Angeles, where he had a round of business meetings scheduled. He began the day at the Four Seasons, where he spread out in a banquette and asked a waiter for an orange and peach juice.
"Fresh, no suds, no foam," he said. "Sometimes you get this much juice and that much foam."
The waiter nodded.
"Thank you, bro," Mr. O'Denat said.
The media entrepreneur wore distressed denim by Robin's Jean, a black WorldStarHipHop T-shirt, vintage red sunglasses with 14-karat gold banding, an Oregon Ducks cap turned backward and Nike Kobe Barcelona sneakers. The most eye-catching part of his ensemble was a custom denim vest emblazoned with graphics from the 1980s video game "The Legend of Zelda."
"It's by Romanelli," Mr. O'Denat said, referring to Darren Romanelli, a Los Angeles-based artist and designer whose work is popular with rappers and athletes. "I told him I wanted something with vintage video games. He ran with it."
Mr. O'Denat has always been into fresh clothes and hip-hop music, he said, going back to his childhood in Hollis, Queens, where he had a front-row seat to the early days of the culture. "I used to hang out on Jamaica Avenue," Mr. O'Denat said. "L L Cool J shopped there, Run-DMC."
Mr. O'Denat, 43, is of Haitian heritage and was raised by a single mother. He started working at 14, initially at a fast-food restaurant (he lasted a week), then at Circuit City, where he fell in love with computers. He discovered the web back in the dial-up days.
"I was telling people, 'This is the future,' " he said. "They were like, 'This is going nowhere.' They laughed at me."
Mr. O'Denat, a high school dropout, started his first digital venture, a pornographic site, in 1999. It failed. Next he created an e-commerce site to sell mix tapes by DJ Whoo Kid, a friend from Queens who collaborated with 50 Cent. It was moderately successful but too narrowly focused.
It wasn't until the mid-aughts, when YouTube became popular, that Mr. O'Denat said he "saw another curve, the future of everything," and created a hip-hop-inspired site that was 100 percent videos. But while YouTube was a vast media ocean, Mr. O'Denat's WorldStar would be a concentrated dose of off-the-chain.
"On WorldStar, it's right there in front of you," Mr. O'Denat said. "Just trust us to entertain you. That's what we did."
Mr. O'Denat's first meeting of the day was with Fullscreen, a media company that connects online personalities and brands. On the drive to its office in the Playa Vista neighborhood of Los Angeles, Mr. O'Denat tuned in 93.5 KDAY, an old-school hip-hop station. "I'm in my 40s, man," he said. "Personally, I like '80s music, '70s soul."
Still, Mr. O'Denat is a gatekeeper for modern hip-hop. Rappers like Wiz Khalifa introduce their videos on WorldStar, and aspiring rappers pay to have their more low-budget clips reach tens of thousands of potential fans. Sometimes Mr. O'Denat gets drawn into beefs by posting one rapper's diss track against a rival, or refusing to post a video someone submitted.
Like many self-made people from humble origins, Mr. O'Denat has had to fend off those who think his success was accidental. "They think it's luck," he said. "I don't believe in luck. It's hard work." He laughed. "Luck is when you get a scratch-off lotto and win five bucks, man. That's luck."
In the Fullscreen conference room, Mr. O'Denat met with a team that included Damon Berger, the company's vice president for business development.
Last year, WorldStar started "The Field," a documentary series focused on communities in American cities where hip-hop thrives; Chicago was first, followed by an episode focused on the Miami that lies beyond South Beach. Mr. O'Denat has teamed up with Fullscreen in an effort to get brands to underwrite the costs of "The Field" and other original programs.
As Mr. Berger spoke in enthusiastic tech babble about things like channel optimization and audience engagement, Mr. O'Denat listened. Afterward, he put the need for partnerships on his own terms.
"We want to expand and grow, and that requires money," he said. "Other people's money. O.P.M., man."
Despite his desire to make the site a global force, Mr. O'Denat has been resistant to do what may be required to make that happen. He built WorldStar without investors, and over the years has repeatedly declined offers to form partnerships or sell a percentage, fearing loss of control and a turn away from the site's core audience.
The most enticing offer came from Sean Combs, Mr. O'Denat recalled back in the car after the meeting with Fullscreen.
"Puffy flew me to his house in Miami," he said. "He had servants serving food. He had this huge Buddha. I never saw a home so lavish. I thought I'd see an elephant or giraffe or something."
In the end, he decided he didn't want Mr. Combs to become the face of the site he created. "I have a great personality," Mr. O'Denat said. "I'm very unique. I built this thing from scratch. I want to be the guy, you know?"
He has kept WorldStar lean, with 10 employees and five video posters who work remotely. He rebuffed another offer of $40 million for a 40 percent stake, he said. Turning down the money was a big risk, he said, especially if WorldStar's popularity has peaked.
In recent years, the site's traffic has fallen, and while it remains in the top 500 of most-visited sites in the United States, according to Alexa, a web-traffic analytics site, WorldStar's ranking has slipped almost 200 spots over the last three years.
At the same time, sites like Gawker are increasingly posting the "Cops"-style videos that have been WorldStar's niche, and Vice Media, with financial backing from 20th Century Fox, has become the king of subversive, youth-oriented original video content.
But Mr. O'Denat is looking at the "Facebook blueprint," he said, in which he receives money from experienced investors in exchange for a small percentage of his company. "If I had those type of investors in the beginning, WorldStar would be a half a billion company right now," he said. "Call me crazy, but I just feel so passionate about it and don't want to sell it short."
After lunch at a Chinese restaurant in Beverly Hills, Mr. O'Denat stopped by the offices of William Morris Endeavor to see his new agent, Everett Johnson.
"What's up, family?" Mr. Johnson said in greeting.
There was much to discuss: a hip-hop tour sponsored by the site; a deal with Paramount for a teenage comedy that would be in the vein of "Superbad," with WorldStar featured as a major plot point; and a possible TV show built around the site.
"There are ways we can monetize all this great video and content," Mr. Johnson said.
While Mr. O'Denat navigates Los Angeles in his effort to take WorldStar to the next level, he knows it won't be a slam dunk. "I tell myself all the time: Nothing is guaranteed," he said. "Mike Tyson was No. 1 once. Michael Jordan. But they're not No. 1 right now, you know what I'm saying?"