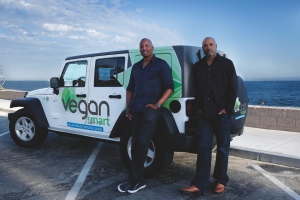 These entrepreneurs got junk food banned from vending machines in Los Angeles' schools, overcame mind-blowing adversity, and have families plagued with diabetes and cancer. Now they're changing people's lives through a plant-based diet. They're also changing the game.
THRIVE MAGAZINE: How did you guys meet?
Kareem Cook: Claude and I met in college. We both attended Duke University in North Carolina.
THRIVE: How did you decide that you two should become business partners?
Claude Tellis: We ended up both going to business school at the same time. I went to The Wharton School of Business at the University of Pennsylvania. Kareem went back to the Fuqua School of Business at Duke. I decided then that I wanted to be an entrepreneur. Two years after graduating, I decided to make a move to Los Angeles and decided Kareem should roll with me.
Kareem: I always say I moved to LA for a woman. And I did. But not my woman. Claude's woman.
Claude: My fiancé was living in LA. She gave me until February of 2002 to find a way to move out to LA, or she was returning my ring. We got here January 31, 2002.
THRIVE: So what was the plan?
Kareem: Well, Claude and I had written the business plan for a friend of ours, world-renowned dancer, choreographer, actor, producer, and director Debbie Allen to open up the Debbie Allen
Dance Academy. She offered us the back offices of the dance academy to use as a headquarters for starting a company. What company? Nobody knew.
Claude: But we immediately noticed all of these overweight kids walking around when we got to LA.
Kareem: Being from the East Coast, we had this preconceived and erroneous belief that it was going to be like the show Baywatch out here. Everyone would be in excellent physical shape. The moment we stepped out the car, we realized that we had been hoodwinked. First, you see it, then you read about it. There was a 40% child obesity rate in LA! We said to ourselves, "Some smart business people will come up with a way
to address this child obesity problem." Claude mentioned an idea he had about healthy vending machines, and how effective that could be. We figured, why not do that in LA?
Claude: Problem was, we were here in LA, jobless. We decided to write a business plan and raise some money. We received a small business loan from a local bank. Debbie's husband and former NBA player Norm Nixon saw what we were doing, thought it was noble, and joined us. A month after arriving in LA, we managed to meet with the head of the YMCA and embarrassed him by reminding him of their tenets and that those soda machines in the lobby were in direct contradiction. We walked out of that office with the contract for all the YMCAs in LA.
Kareem: That was a good start, but we had to figure out how to get into the schools where thousands of children would be.
Claude: Getting a school wasn't easy. There were over 120 public high schools and middle schools in LA. Schools in LA had an incentive to sell junk food. Scoreboards, uniforms, and other basic activity equipment comes out of the vending commission payments.
Kareem: We got our first school, Venice High School, in June of 2002, four months after moving to LA.
Claude: We made some smart moves, like joining an alliance of health teachers and taking a trip
to Sacramento to meet Phil Angelides who at the time was State Treasurer of California. We knew he cared about social justice and he championed our cause. We helped get junk food banned in LA in 2003, and in May of 2004, we were awarded the contract for every public high school and middle school in LA.
We are dispelling the myth that vegans aren't sexy, fit, and beautiful. Being vegan is cool. Being healthy is cool. Caring about the world you live in is cool.
THRIVE: We hear stories from people who dive into entrepreneurship and failed, but you guys seem to have been successful from the start.
Kareem: Listen, it was very hard. I lived in the office for a year and didn't have a personal car. We were robbed of our money, confronted by some local gangs, and were under a lot of pressure to go get traditional jobs. Our mothers were worried sick. We really made no money in the first few years. We had opportunities to make money, but we knew we had to stick to our principles. We have horror stories for sure, and it isn't for everyone. But we would've had it no other way.
THRIVE: So how did you come into owning Naturade and VeganSmart?
Claude: We realized that the vending machine company was not very scalable beyond LA,
and underlying our desire to be successful was
a desire to help our community overcome so many diseases that plague us, like diabetes, heart disease, and hypertension. All of my aunts and uncles suffer from diabetes. In my family, it's not a possibility, it's an eventuality. They live in the South with very few healthy options available to them. So we parted ways with the business and sold it to our third partner. We returned to our Duke roots. We are both from the private equity world, which means that we are skilled
at examining companies for investment, fixing what's broken, and then growing companies. We met with some Duke University alumni, many
of whom were trustees, and told them our story: How we played a major role in getting junk food banned in LA public schools. How President Bill Clinton and Governor Mike Huckabee had us come to Arkansas and discuss what we had done in LA. We convinced them to invest in a family office that we control, which allows us to acquire companies such as Naturade.
Kareem: We realized the best way to address these diseases is through prevention. And for the most part, it's diet. So we found Naturade, a company that has been around since 1926. We knew it had an outstanding reputation and that we could use it as a platform to launch products that would address the issues that were important to us.
Claude: The more we learned, the more we realized that a plant-based diet is an amazing way to prevent many of the diseases that plague us. I watched my wife fight off cancer in her father by simply changing his diet. I was blown away. So we created VeganSmart. It's an All-in-One nutritional shake that not only has twenty grams of protein, but also twenty-two vitamin and minerals, digestive enzymes, dietary fiber and omega, pre- biotics, and more. And importantly to both of us, it is very low in sugar. We really wanted it to taste amazing, which it does. It has really resonated well with the vegan community, but we really want to hit people who don't consider themselves vegans. It really is a product that everyone should use whether you are vegan or not. We get letters all the time telling us how we have changed lives. It has been an incredibly fulfilling venture.
Kareem: We took the lessons of the past and are using them now in the present. The same things that motivate kids, motive adults: fear and being cool. We are making it cool to eat a healthy diet again. We are making it cool to be vegan. We have launched a series of VeganSmart Brunches, and we bring 500 to 600 people together in cool cities to enjoy vegan sliders, smoothies, and vegan- friendly alcoholic beverages. We are dispelling the myth that vegans aren't sexy, fit, and beautiful. Being vegan is cool. Being healthy is cool. Caring about the world you live in is cool. I can't put into words how happy I am to see the fruits of our labor manifest in such a positive way. We drove out to California to chase our dream in 2002, and in 2015, we are helping people worldwide. Doing great by doing good.