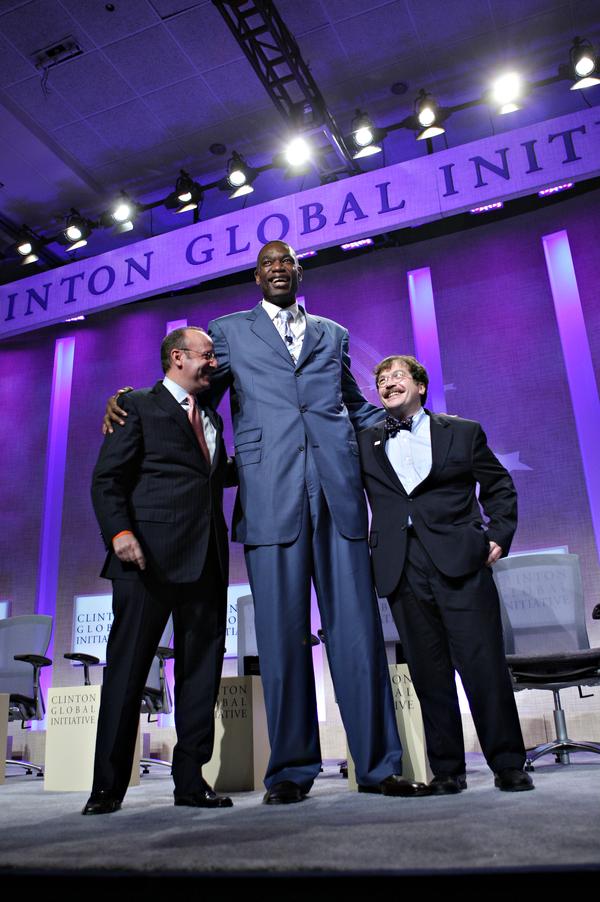 Eight-time NBA All-Star Dikembe Mutombo was elected to the Naismith Memorial Basketball Hall of Fame Class of 2015.
Mutombo will be honored alongside 10 other classmates Sept. 10-12 during this year's Enshrinement Ceremonies in Springfield, Mass. In addition to Mutombo, this year's list includes 39-year NBA referee Dick Bavetta, two-time College Coach of the Year John Calipari, four-time NBA All-Star Spencer Haywood, seven-time NBA All-Star Jo Jo White and three-time WNBA MVP Lisa Leslie.
"We are honored to recognize the highly distinguished Basketball Hall of Fame Class of 2015," John L. Doleva, President and CEO of the Naismith Memorial Basketball Hall of Fame said in a statement. "They have contributed a great deal to the game we all love, as players, coaches, teachers, mentors and more. They have dedicated themselves to their craft and serve as an inspiration to many. We look forward to honoring each of these inductees during the Enshrinement festivities in September."
To be elected, finalists must receive 18 of 24 votes from the Honors Committee for election into the Naismith Memorial Basketball Hall of Fame. The addition of the direct elect committees were incorporated into the election process to maintain a strong focus on keeping history on the forefront of the voting procedures and to preserve a balance between two eras of basketball, the Hall of Fame reported.
Mutombo is an eight-time NBA All-Star (1992, 1995-98, 2000-02) and a four-time NBA Defensive Player of the Year (1995, 1997, 1998, 2001). He led the NBA in blocked shots for five consecutive seasons (1994-98) and blocks per game for a record three consecutive seasons (1994-96). He earned NBA All-Rookie Team recognition in 1992 and All-NBA Second Team in 2001. A native of Zaire, Africa, Mutombo attended Georgetown University and played in the NBA from 1991 until 2009 recording 11,729 points, 12,359 rebounds, and 3,289 blocks in eighteen NBA seasons. He received the J. Walter Kennedy Citizenship Award in 2001 and 2009. His legendary finger-wagging motion after blocked shots became one of the most recognized gestures in the game.