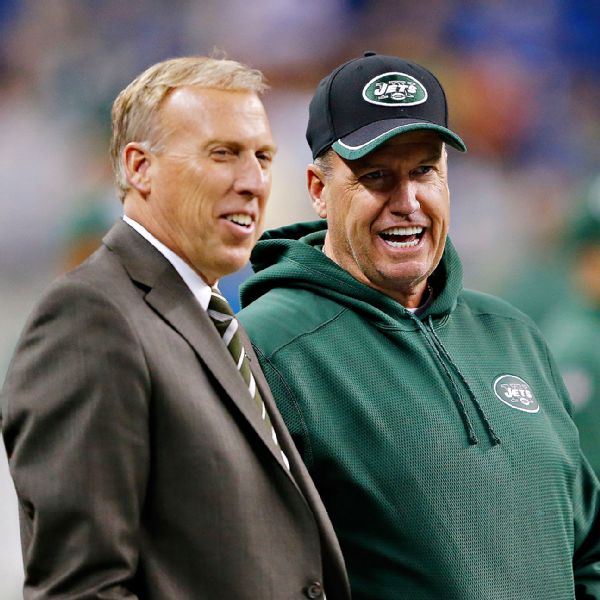 Coach Rex Ryan and general manager John Idzik were fired early Monday morning, the first casualties of the New York Jets' fourth straight year out of the playoffs.
Owner Woody Johnson made the decisive, if not surprising, moves after his team stumbled to 4-12, its worst record since 2007. Johnson recently called it the most difficult of his 15 seasons as the head of the organization.
Ryan addressed the team briefly Monday morning, showing little emotion, according to players. Instead of giving a speech, Ryan showed a highlight film of top moments from the past few years. Idzik did not speak to the team.
"We're in the win business and we're not winning, so I think this was something I had to do. … It became pretty apparent during the season the team wasn't getting better. Like [former Jets coach and GM Bill] Parcells says, you are what your record says you are," Johnson said at a news conference.
Johnson said he and newly hired consultants Charley Casserly and Ron Wolf — both former longtime GMs — will lead the general manager and coaching searches. He said they'd probably hire a general manager first, but he said things could change.
"This is very, very critical right now," Johnson said. "We've got to make some good decisions. We have to structure it properly. We have to know exactly what we're looking for in a head coach and how he defines exactly what he's looking for. Same with the GM."
He said they already have reached out to GM and coaching candidates, adding they want to begin the process immediately.
In a mea culpa, Johnson expressed some regret for hiring a GM — Idzik — who didn't have a background in scouting and personnel. This time, the Jets would like to add a football executive with a scouting pedigree. The owner also admitted they should've spent more in free agency. They began the season with more than $20 million in cap space.
"I get all the blame," Johnson said. "I have to get a lot better."
Johnson had one foot-in-mouth moment, saying he'd be in favor of reuniting with Darrelle Revis, who is under contract through 2015 with the New England Patriots.
"I'd love for Darrelle to come back," he said, perhaps opening himself up to a possible tampering accusation.
Ryan's fate was sealed several weeks ago, as the Jets were mathematically eliminated from postseason contention before Thanksgiving. In recent days, he had been telling friends he expected to be fired.
"I'm not afraid of what lies ahead, I can tell you that," Ryan said Sunday after the Jets beat the Miami Dolphins.
Until recently, the decision to fire Idzik was less certain, if only because he was hired just two years ago. But news of the Jets' hiring Casserly last week was a clear sign that Johnson wanted to take the franchise in a different direction.
Idzik came under heavy criticism for his conservative spending, his poor 2014 draft class and a rambling, midseason news conference in which he seemed out of touch with the sorry state of the team. It prompted a group of disgruntled fans to raise money to purchase a "Fire John Idzik" billboard near MetLife Stadium.
Ryan and Idzik, paired by Johnson, spent two seasons together, raising expectations after a surprising 8-8 finish in 2013. Ryan received a contract extension — guaranteed money through 2015 — but the 2014 season was undermined by poor quarterback play and a glaring lack of depth at cornerback.
The Jets lost eight straight games at one point, resulting in what Ryan called an "awful" season.
Ryan finished with a 46-50 record in six seasons, the third-longest tenure among Jets' head coaches. He won more postseason games (four) than any other Jets coach.
So ends one of the most entertaining eras in team history.
The outspoken Ryan, whose brash style and Super Bowl guarantees turned the Jets into a national fascination, was a media sensation from day one.
In his first news conference, he predicted a celebratory visit to the White House, and he came close to delivering one with back-to-back trips to the AFC Championship Game in his first two seasons. But he wasn't able to sustain the success, as the Jets went 26-38 over his final four seasons.
Ryan was brash to the bitter end, vowing last week, "One day, I'm going to win that thing" — meaning the Vince Lombardi Trophy.
His downfall was instability at the quarterback position. The defensive-minded Ryan started two rookies during his tenure, Mark Sanchez and Geno Smith, resulting in 109 interceptions — the sixth-highest total over that span.