Jay Cutler is the highest paid QB in the NFL !!!!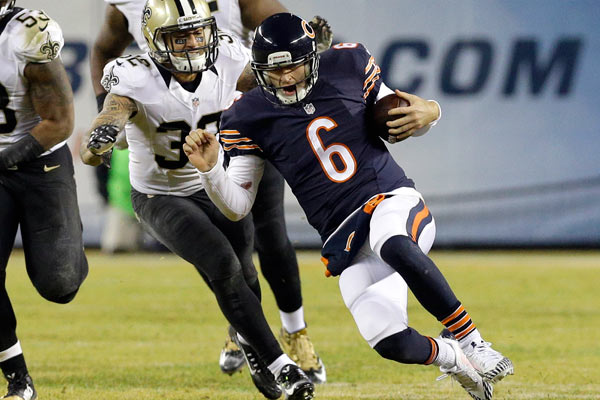 The Chicago Bears plan to start Jimmy Clausen at quarterback this week over Jay Cutler, a source told ESPN NFL Insider Adam Schefter.
Cutler has struggled this season in leading the Bears to a 5-9 record. In Monday's 31-15 loss to the New Orleans Saints, he threw two touchdowns but had three interceptions to bring his NFL-leading turnover total to 24. He produced a season-low passer rating of 55.8 and generated a total QBR of 6.8, which registered as his second-worst performance of the season in that category (he had a 6.0 QBR in Week 10 against the Green Bay Packers). He also was sacked seven times against the Saints.
Cutler is the highest-paid offensive player in the NFL this season. Coach Marc Trestman informed him Wednesday morning that Clausen would get the start, sources told ESPN senior NFL analyst Chris Mortensen.
Trestman admitted Wednesday before word spread of the benching that he hadn't been able to coax the best from Cutler.
"I think that's evident I haven't up to this point," Trestman said. "Am I working at it? Yes. We've seen moments, but we haven't done it on a consistent basis. I can't hide from that."
Trestman pointed to the offense as a whole, not just Cutler, in addressing the Bears' issues.
"We haven't been able to do the things that we want to get done," he said. "We're working towards that. But the answer to that is obvious. I'm trying to give you the most truthful answer, and that is, we've seen moments of it, but it's not where we need to go. It's not where we need to be. But it's not all about Jay. It's about our entire offense, working together to get it done."
Clausen has appeared in three games for the Bears this season. He will get the start against the Detroit Lions on Sunday.
The 27-year-old was drafted by the Carolina Panthers in the second round in 2010 out of Notre Dame. He played in 13 games in his rookie season, starting 10, before the Panthers drafted Cam Newton and inserted him as the starter.
The Bears named Clausen as Cutler's backup after a preseason competition with Jordan Palmer, citing his experience, upside, mechanics, football smarts and mental toughness. Clausen endured injuries and a lack of success as a rookie in addition to being benched in favor of Newton.
"His ability to handle the adversity that he had in his first year, his leadership qualities, he stood up tall through a lot of tough times in Carolina, and gained the respect of his teammates and the team there with the way he handled himself in a very, very difficult year," Trestman said in August. "So that, plus performance, plus experience, plus youth were a lot of the reasons."
At the time, Clausen said his experiences in Carolina might have helped him with the Bears.
"One of the big things is sitting and looking back on the sidelines the past few years in Carolina just sitting and learning really did help," he said. "I didn't have that in college. I didn't have that in high school. Just to sit back and take a step back and look at everything helped the game slow down a little bit for me, and [I] just learned how to play in the NFL because it's totally different from college."
The Bears wrap up the season Dec. 28 against the Minnesota Vikings.