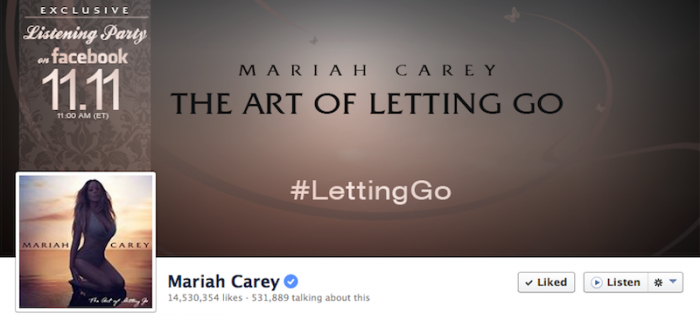 Upstart musicians like Daria Musk and Amanda Palmer have become darlings of the technology pundits for using social media platforms like Google+ and Kickstarter to build their fan bases and manage their careers. But the established stars know a thing or two about social media, too. Paul McCartney and Robert Plant recently hosted Q&A sessions on Twitter, and on November 7 Eminem fielded questions from his Facebook fans. On November 11 Mariah Carey demonstrated why she recently reached a new high on the Billboard Social 50 chart when she released her new single, "The Art of Letting Go," on Facebook and hosted a listening party for her fans. In doing so, she showed how the music superstars can embrace the new paradigm for success in the music industry as we know it today: be personal. Be available. And share your content in a nimble way.
Mariah launched the listening party promptly at 11:00 a.m. EST on November 11 by posting the song "The Art of Letting Go," including a free listen and a link to iTunes for a purchase. "Listen to the song below and ask me your questions right here!" she wrote. "I'll try reply to as many as I can."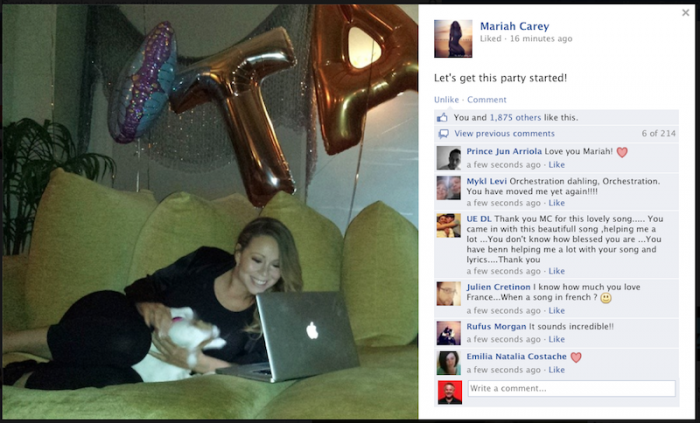 And for one hour, fans asked her a wide range of questions and poured out their hearts to her, with one fan writing passionately about how Mariah's music was helping her endure in the aftermath of a suicide attempt. (Mariah replied by thanking the fan for sharing her story, empathizing with her, and noting that comforting her fans is a reason she makes music.) Throughout the Q&A session, she give insight into the making of "The Art of Letting Go" (both the song and the forthcoming album, which has the same name):
•    On the inspiration for her new single: "I was in a really bleak mood one day and I decided that I just needed to let that feeling go by releasing my emotions through music and words."
•    On whether she has difficulty letting go of a song when she's finished recording it: "Yes, I do. I find it particularly hard to say I'm finished with this record, but with this song after the latest mix, I fell so much more in love with it. I hope most people are listening where they can hear the various ranges in the song."
•    On the inspiration for the lyrics of "The Art of Letting Go": "it's just effing life that pushes me to the brink so I have to take it out while in a creative zone with a pad and a pen and/or voice notes."
She also noted that the shoulder dislocation injury that she suffered in July had pushed back the release of her forthcoming album — but also gave her time and inspiration to write two more songs. She said her healing shoulder is "about 95% better . . . still hurts though so please don't slap me on the back should you see me in the street!"
She also posted visual content, such as the moment her dog Mutley joined the party: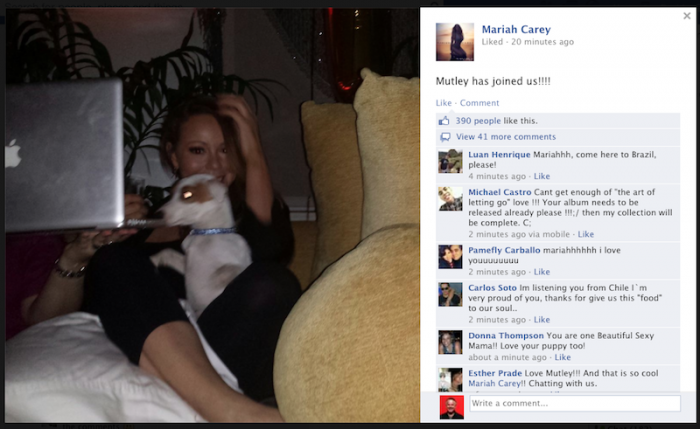 Within one hour, the party generated more than Facebook 23,000 likes, 8,600 shares, and 13,000 comments.
The Facebook listening party is the brainchild of her long-time collaborator Jermaine Dupri, who officially became her manager in October. The party is one way (albeit an important one) JD and Mariah been harnessing social to build excitement for her forthcoming album. For instance, JD's occasional Instagram posts depicting the making of the album (including a first-listen with Stevie Wonder) have given Mariah's global fan base a steady stream of visual content to repost on their own social spaces.
"The Internet has made the world flat, so when you have a person like Mariah whose fanbase goes from here to other end of the world, why not share [the music] with everyone at once?" JD explained to MTV News recently.
The rules for breaking new music have changed since Mariah Carey released her first album in 1990. In the days when fans discovered Mariah Carey and Emotions, the old-line gatekeepers in the recording industry controlled distribution of content (music) through radio airplay and shipment of units (CDs) to record stores. There was no Facebook, no iTunes, and no YouTube. Obviously those days are long gone. The traditional gatekeepers lost their grip a long time ago. Artists have needed to redefine how they measure commercial success now that consumers can sample and download morsels of content on their own terms through digital rather than willingly purchase an entire album's worth of songs. But social media has given artists a way to build stronger relationships with their fans on a global scale faster and wider than before. Through her Facebook listening party, Mariah Carey demonstrated today the art of letting go of the old ways and embracing the new.
Lifers, did you attend the listening party? What did you think of it?