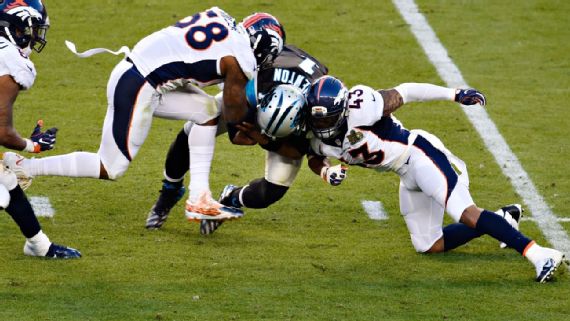 Manning had just enough left in his 39-year-old body to keep things in order on offense and give the Broncos' defense room to stomp, flex and rumble to a 24-10 win over the Carolina Panthersin Super Bowl 50 at Levi's Stadium.
"I'm just glad I'm on the same team as our defense and glad I don't have play against them … No question our defense led the way," Manning said.
The victory is the Broncos' third in the Super Bowl — it was the team's record-tying eighth trip — and ultimately fulfilled a promise Broncos general manager John Elway made to Manning in 2012.
Elway told Manning he would do "everything in my power," to help him close out his career with a championship. That everything included giving the Broncos the kind of defense Manning has never had in tow before.
Defensive coordinator Wade Phillips has said the Broncos' cornerbacks are the best he has had in his almost four decades' worth of work in the NFL. They are the kind of defensive backs the pass-rushers love because they give them the time they need to get home. Phillips has consistently described linebacker Von Miller as "special."
From the moment Miller arrived in Denver with the second pick of the 2011 draft, his coveted ability to turn speed to power, power to speed has been on display. But when DeMarcus Ware arrived in free agency in 2014 it transitioned Miller from gifted athlete to full-blown football hell-raiser with the drive, moves and down-to-down determination to lead a defense to a Super Bowl win.
It was in all of those practice conversations, all of the Wednesday competitions, that Ware, pass-rusher royalty in the 100-sack club, would constantly push Miller to make more plays than he did that day, and the next one, and all of the days that followed.
Miller showed big-moment impact with his sack and forced fumble that led to the Broncos' first-quarter touchdown. He later beat Panthers right tackle Mike Remmers with a move Miller didn't have early in his career — the spin back inside when the tackle tried to push him out wide.
And he put the exclamation point on it when he knocked the ball free from Cam Newton in the game's final minutes, showing enough power and leverage to hold off Remmers with one arm and knock the ball out — left-handed — with the other. That play led to the Broncos' first offensive touchdown of the game — with 3 minutes, 8 seconds to play — a score that gave the Broncos a 24-10 lead when C.J. Anderson plowed over Panthers Pro Bowl linebacker Luke Kuechly into the end zone.