THE WORLD CAN SLEEP EASY TONIGHT KNOWING THAT LEBRON IS WEARING 23 AGAIN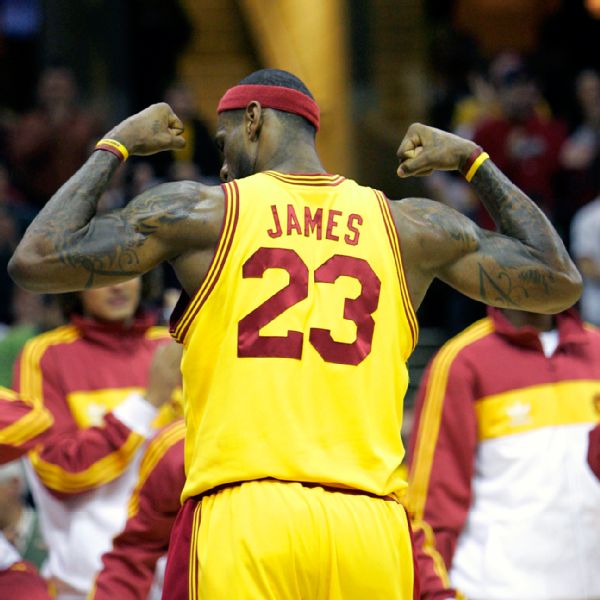 Sixteen days after he decided to return to the Cleveland Cavaliers, LeBron James has finally picked his number.
At around 1 p.m. ET on Sunday on his Instagram account, James announced he would go back to wearing the No. 23. He also shared the link on his Twitter account.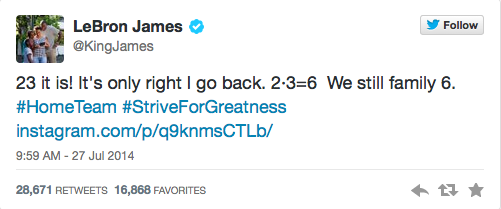 Three minutes later, Adidas spokesperson Madeline Breskin confirmed that the company had begun setting up the machines for a production run on its 20 automated printers at the company's sports licensing facility in Indianapolis.
Blake Lundberg, vice president of the facility, said they will be shipping jerseys and James No. 23 T-shirts out to more than 140 accounts in the next 48 hours.
Adidas would not say how many jerseys would have to be made, but did confirm that Cavaliers jerseys were initially sold out in home, away and alternate replicas. Pre-orders had begun on July 11, the day James announced his return and the company had to account for how many blank Cavaliers jerseys were left over since most jerseys are made in China and take at least a month by boat to arrive in the United States.
James wore the No. 23 from his rookie season in 2003-04 to the 2009-10 season, his entire career with the Cavaliers, but he switched to his Olympic No. 6 when he went to the Heat. James' number change at the time, he said, was partly to help the league honor Michael Jordan by permanently retiring his number across the league.